Greetings, Welcome to the Barony of Dreiburgen!
One of the founding baronies of the Kingdom of Caid, in the Society for Creative Anachronism, located in San Bernardino and Riverside counties in Southern California. We share San Bernardino County with the Shire of al-Sahid to our North. Within our borders lie the Cantons of Gallavally and Mons Draconis and the Stronghold of Steinsee.
Due to the effects of COVID-19 and Riverside County ordinances, all in person events are canceled until further notice.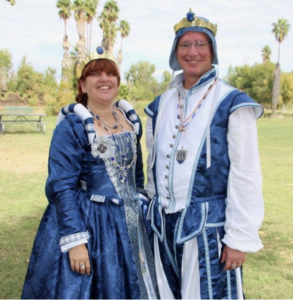 Their Excellencies  Baroness Tyne MacPhersone & Baron Logan Blackrune
FOR NEWCOMER INFORMATION, VISIT THE KINGDOM WEB SITE.
SCA-THE DREAM from Raiya Corsiglia on Vimeo.