Dreiburgen Summer Arts 2021
Competition Entries
(Please Click on the Thumbnails for a Larger View)
---
Materials: blue cotton cut with all edges surged with black thread. Pieces were then stitched together with white crochet thread in a blanket stitch. Front and back panels were stamped with silver metallic fabric paint using a combination of 1" trim stamps and a 3" center stamp that were modeled and 3D printed from PLA.
---
Click on the pictures for a larger view
Click on the pictures for a larger view
---
Caid Populace Badge Cross-Stitch
---
Lady Rudaba al-Nahdiya
Documentation: 
This piece is a filk to a period dance tune. There was, in the 15th Century, a French Style dance choreographed by an Italian Courtier. The dance has three step sequences, corresponding to P, A, and B in the text.
The piece starts with 12 (3×4) Pive, hence indicated as P. There is a little up-arrow on that P to represent the slight rise and fall of pive as done by the general public. The Pive are used to promenade around, corresponding to the Call to Journey in the first line. The line is also partly alliterative, with 4 Cs, although only 3 of them make an actual "k" sound. This fits well with the fact that Drei- in Dreiburgen means Three. In addition, the Cs are drawn as crescents due to the 4 crescents argent on azure that signify CAID. The blue background of the moons of Caid is represented in the text color. The word carol once meant dancing around in a circle, which is what the class will start out with, through Bransle Official. By fortunate coincidence, the tune of that dance was later written into a Ding Dong Merrily on High.
The second line has a different style of A, with more of a strike-through effect. This is because the line speaks of Danse de Cleves, a bassedance that is more stately and straight. That section of the dance is also rather stately itself, being two singles, a double, and three singles. The image of flowers and hearts in the text serves as a reflection of the dance's common name of Hearts and Flowers. It was inverted mostly for scansion, but also because Flowers is verse 2 and Hearts is verse 4 in the dance itself. Most of the text is colored brown to symbolize nature, both in earth and twigs/trees. There is color-coordination used to indicate parallel phrase structure. and I find it neat that although I had chosen purple for the flowers, Cleves is largely known in European history for Anne of Cleves, German Queen consort to King Henry VIII. At least in Chinese culture, purple is a Queenly color, with Gold being for Kings. There is also another heraldic influence from the fact that gules and sable next to each other was common in German arms. I had initially used it to highlight the recurrence of burgs, but decided to use it for "German" as well.
In the last line, I copied the angling effect from P in the first for B as that sequence has three Pive. The line was broken up intentionally to show the internal rhyme, and then connected by orange squigglies to make it super obvious. The line is green because Christmas.
Additional links:
15th Century Dances, including music/steps for Amoroso -
http://www.pbm.com/~lindahl/del/sections/15th_c_italian_dance.html
Carol -
https://www.britannica.com/art/carole
Official Bransle  -
http://www.pbm.com/~lindahl/dance/Official_Bransle.html
Danse de Cleves -
https://www.youtube.com/watch?v=_QkmA7kpRS8
German heraldry -
https://www.facebook.com/notes/sca-heraldry-chat/regional-exceptions-to-the-rule-of-tincture-vol-01/10150677670804203
---
Tleco Tleco 
Lady Rudaba al-Nahdiya
Documentation: 
Because I too can lightbox! This is a praise acrostic for my friend Tenochcacuicatl Delmar, with his name on it. This Teuctli, or lord, was Ansteorra's Kingdom bard at the time. The Delmar part is self-evident, however the image to the left is actually the Nahuatl representation of his first name. When I attended my friend's class on Aztec language, he explained his name and showed us the symbol for his name. It was rather nerve-wracking at first, but I think it came out quite prettily. While there is no specific calligraphy in the poem itself, the title is done in a mix of Alemana and Blackletter. Blackletter and Alemana are both Gothic hands, hence the choice.
Additional links:
Tenoch's SCA facebook profile - https://www.facebook.com/tenoch.sca
Alemana - https://script.byu.edu/Pages/the-spanish-documents-pages/sp-spanish-handwriting(english)
---
Lengberg Bra
By THL Apel von Mülln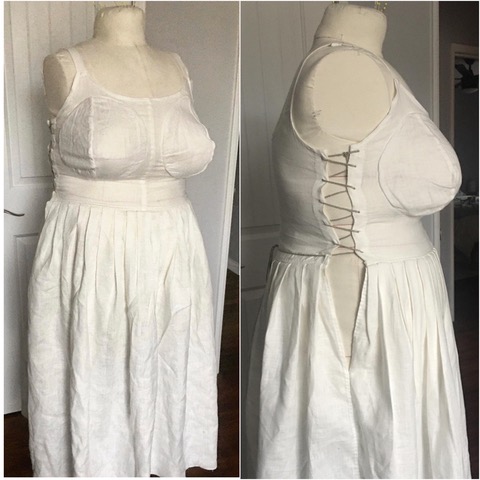 ---
Swiss Gollar
By THL Apel von Mülln
---
Pleatwork 
By THL Apel von Mülln
---
A Recreation of a 15th Century English Knife
By Lady Dýrfinna Valsdóttir
(Please Click on the Thumbnails Below for a Larger View)
---
Creating a Viking Era Sea Chest
By Lady Dýrfinna Valsdóttir
(Please Click on the Thumbnails Below for a Larger View)
---
A Recreation of a 9th Century Viking Sword
By Lady Dýrfinna Valsdóttir
(Please Click on the Thumbnails Below for a Larger View)